We watch several movies a week. Every Friday, we'll talk a little about some of the movies we watched that we felt were Worth Mentioning.

This week, Cody has a Frankenstein Friday and talks about five Frankenstein-related films, while Jay recommends Stand and Deliver.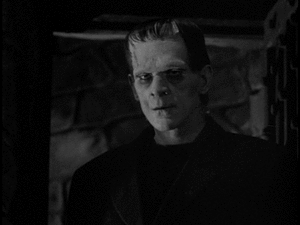 "I saw the pale student of unhallowed arts kneeling beside the thing he had put together. I saw the hideous phantasm of a man stretched out, and then, on the working of some powerful engine, show signs of life, and stir with an uneasy, half vital motion. Frightful must it be; for supremely frightful would be the effect of any human endeavour to mock the stupendous mechanism of the Creator of the world."
- Mary Shelley
Last Friday, I got the very cool opportunity to see a big screen double feature at the historic Ohio Theatre, the kind of ultra-classy place where an organ player rises out of the floor to entertain you before the movie begins. The double feature being shown: Bride of Frankenstein and Abbott and Costello Meet Frankenstein. The turnout for the double feature was great and it was a very fun three+ hours. Making this event even cooler is the fact that the films were introduced by Fritz the Nite Owl, a legendary television horror host from the Columbus, OH area.
Fritz hosted Nite Owl Theatre on TV from 1974 to 1991, and made a triumphant return in 2010 on
FritzLives.com
, where a new episode goes up every month after a free screening theatrical debut at the Grandview Theatre in Columbus.
Since Bride of Frankenstein is a sequel that picks up right where its predecessor left off, I made a triple feature for myself by watching the first movie before I left the house.
FRANKENSTEIN (1931)
Everyone knows the story. Ambitious young scientist Henry Frankenstein has secluded himself in an abandond watchtower with his assistant so that he can completely devote himself to his experiments, not even taking visits from his fiancee. Henry has a mad dream of being able to create life, stealing body parts from freshly buried corpses and assembling them together to craft his own creature. With his machinery and the aid of a lightning storm, Henry manages to bring his handmade man to life. But man and creator do not get along.
The brilliant idea conceived by Mary Shelley in 1816 for her 1818 novel was turned into a hell of a classic film by director James Whale, as evidenced by the fact that it's still sticking around as it nears its 80th anniversary and remains the definitive cinematic adaptation of the source material, despite the many others (some more faithful) that have followed.
The cast is perfect, from Colin Clive as Henry, his voice and delivery of the simple line "It's alive!" making that one of most memorable cinematic lines ever, to Frederick Kerr as Henry's father Baron Frankenstein. I don't often see it mentioned just how funny and entertaining Kerr is in his role.
And, of course, there's Boris Karloff - credited in the beginning as "?" - playing The Monster. This recent viewing was the first time that it really sank in for me how terrifying the monster must've been for 1931 audiences. By the time I was born, this film had already been around for over fifty years and the image of Karloff Frankenstein had already long been firmly in place as a pop culture icon. He never creeped me out, he was just fun and cool. When I watched the movie for the first time, I was already well-versed in the more extreme horrors of the '70s and '80s, so the movie was quaint. But this viewing, during the scene where the monster comes after Henry's fiancee Elizabeth, it finally occured to me - "This guy is pretty damn creepy."
I can only imagine just how creepy he must've been for the moviegoers eighty years ago, most of them probably not quite accustomed to seeing the ghoulish and horrific in theatres. The idea and image of a creature that's a patchwork living corpse with an abnormal brain and a body that doesn't move quite right must've blown some minds and caused plenty of nightmares. The first time the monster's face is shown, Whale doesn't give the audience a relieving cut away, either. Instead, he cuts in to a closer shot, and then another cut takes us even closer.
Karloff is fantastic in role of this troubled creature and will always be THE Frankenstein's monster performer.
BRIDE OF FRANKENSTEIN (1935)
Bride begins right at the end of Frankenstein, in fact starting in between the first movie's final two scenes to show us how the monster managed to survive its apparent fiery demise. The monster goes on to wander through the countryside, meeting the inevitable adversity, but also learning the value of friendship when a kind blind hermit takes him in, even teaching him how to speak.
Meanwhile, Henry Frankenstein is approached by Doctor Pretorius, a former teacher of his and a very odd man who wants Henry to make another creature with his help, welcoming a new world of gods and monsters. Pretorius too has created life, but his creations are tiny people that he has grown and keeps inside glass jars. His idea is to create a female, a mate for the monster so they can breed a new race. Henry refuses... until his wife Elizabeth is kidnapped and held hostage by Pretorius and his cohorts. Pretorius happens to meet up with the monster along the way and finds that he does indeed want a "Woman. Friend. Wife." For better or worse, the Bride is made.
Universal and producer Carl Laemmle, Jr. had started thinking of a sequel to Frankenstein even before that film's official release. James Whale was reluctant to direct, but after he finally agreed to it he held off on going forward with it until the script was perfect. This strive for quality is partially evidenced in the fact that it took four years for Bride to come out in a time when sequels were usually following much sooner (example: King Kong came out in early April of 1933, Son of Kong was in theatres by the end of December '33) and especially evident in the result that Bride is one of the rare sequels that is widely regarded to be even better than its predecessor.
Whale amped up the humor in the sequel, achieving his goal of making it a "hoot". Kudos must again be given to the cast, with Boris Karloff and Colin Clive returning as monster and creator. Ernest Thesiger is amazing as Pretorius, simultaneously sinister and very funny. Una O'Connor has a small, hilarious role as Frankenstein's housekeeper. O.P. Heggie is very good and likeable as the hermit. And then there's the stunning Elsa Lanchester. She has two roles in the film, appearing as Mary Shelley in a prologue, and later playing the Bride. Moving jerkily and sporting that awesome hairdo, Elsa hisses and screams the Bride into the horror icon history books with just 3 minutes of screen time.
ABBOTT AND COSTELLO MEET FRANKENSTEIN (1948)
Baggage clerks Chick and Wilbur have recently received a shipment of two large crates destined for the local House of Horrors. A man named Larry Talbot knows about the crates and calls from London to demand that they not be delivered until he arrives, but the owner of the House of Horrors is even more demanding that they be delivered immediately, and since he's angry and there in person, he wins.
Turns out that the crates contain the legendary Count Dracula and Frankenstein's monster, who rise from their slumber, scare Wilbur out of his wits, and head off to an island castle, where Dracula's associate Doctor Sandra Mornay is awaiting their arrival so she can proceed with a brain transplant for the monster. The monster is important to Dracula's plans and he doesn't want an unmanageable brute, he needs the monster to have no will of its own, no intellect. Sandra has chosen the perfect replacement, a brain so simple and pliable that he will obey Dracula like a trained dog. Her chosen brain donor: Wilbur.
Larry Talbot, who has been cursed to become the Wolf Man during the full moon, arrives to stop Dracula and help protect Wilbur's brain.
Even though this is a slapstick comedy, the monsters are not the joke. They're still true to character, which is aided by the fact that all of the performers have experience in their roles. Lon Chaney Jr. plays the Wolf Man Larry Talbot for the fifth (and final) time. The appropriately named Glenn Strange plays Frankenstein's monster, his third time in the role following House of Frankenstein and House of Dracula. Bela Lugosi reprises his most famous character, returning as Dracula seventeen years after the Tod Browning classic. Though he played other vampiric characters in his career, Lugosi only played Dracula in two features. The voice of Vincent Price also has a quick cameo as the Invisible Man.
The comedy comes from the fact that the hapless normal citizens caught in the midst of the villainous plans and monster battles just happen to be played by the comedy duo of Bud Abbott and Lou Costello, who are also true to their regular characters.
Abbott and Costello rule, and this is a great, hilarious movie. It was awesome to get to watch it with a packed crowd that was very receptive to the humor, cracking up throughout. Costello's Wilbur is a total coward, which may make him one of the most sensible characters ever to be in a horror movie.
After that epic triple feature, I watched a couple more Frankenstein-related movies through the week:
GODS AND MONSTERS (1998)
This great drama is set in 1957 and tells a fictionalized account of the last days of James Whale's life. When the film begins, a stroke has put Whale in a weakened state and set off a sort of "electrical storm" in his brain, causing a disturbing nonstop flood of thoughts and flashes of memory.
Through flashbacks we get glimpses of Whale's past: His poor upbringing by parents who misunderstood him, taking him out of school at 14 to work in a factory. His mother discouraging his artistic endeavors, telling him to leave the drawing to artists. His service in World War I. A look behind the scenes of Bride of Frankenstein.
The majority of the film deals with the uneasy friendship Whale strikes up with his new gardener, Clay Boone. Boone is impressed by Whale's former career, Whale's side of the friendship is kind of related to the loneliness of the monster in Bride and his need for a friend, as well as his ultimate desire for death.
Ian McKellen plays James Whale and earned an Oscar nomination, as did Lynn Redgrave for her role as Whale's housekeeper, who cares for the man but is deeply disapproving of his homosexuality. Brendan Fraser gives a good performance as Clay Boone. Writer/director Bill Condon's script won the Best Adapated Screenplay Oscar, based on the novel Father of Frankenstein by Christopher Bram. Clive Barker was an executive producer on the film.
THE SPIRIT OF THE BEEHIVE (1973)
Known in its country of origin as El espíritu de la colmena, is a Spanish film set somewhere on the Castilian plain in around 1940, soon after the end of the Spanish Civil War. It's a look at the life of a family in that troubled time, with the 1931 Frankenstein playing a big part in the story.
The lead character is an adorable little girl named Ana, who lives with her bratty sister and their rather emotionally distant parents. The mother is preoccupied with a former lover she hasn't seen in years, she writes a letter to him not even knowing if he's alive. The father is obsessed with his beekeeping, narrating monologues about the glass honeycomb he's designed. He's so into it, even windows in their house have honeycomb patterns.
A truck rolls into the town with a film print, children excitedly gathering and running down the street with the vehicle like it's an ice cream truck. Delivering the print to the tiny local "bring your own seat" cinema, the driver promises the children that he's brought them a great movie. It's James Whale's Frankenstein.
Ana and her sister watch the movie, and Ana is fascinated by the monster. She's left with a question - why did the monster kill the little girl he throws into the lake, and why do the villagers kill the monster? Her sister assures her, neither were actually killed. "Everything in the movies is fake. It's all a trick." The sister tells Ana that she's seen the monster alive, living in an abandoned structure out on the vast, lonely plain. He's a spirit, and if you're his friend, you can talk to him whenever you want. All Ana has to do is close her eyes and say, "It's me, Ana."
From then on, Ana is intent on communing with the spirit of the monster, constantly going out to the abandoned building to look around. Her sister's story gains plausibility when Ana finds a large footprint in the dirt outside the building.
This is an arthouse movie, very low-key and deliberately paced, largely playing out in silence in beautiful locations. It wouldn't be for everyone, but I enjoyed it. I first heard about it just a few years ago, when it was released on DVD, so I thought it was a recent movie. While watching it, I was surprised to find out that it's nearly forty years old. It came out in 1973, looks like 1940 and feels timeless.
Jay's mention:
STAND AND DELIVER (1988)
Directed by Ramon Menedez
Starring Edward James Olmos, Lou Diamond Phillips, and Vanessa Marquez
Stand and Deliver tells the real life story of high school teacher Jaime Escalante as he manages to turn a group of less-than-stellar high schoolers into top-notch calculus students.
I sometimes find myself in the need of a motivational film and this movie is known as one of the best of its kind. One of the main reasons for the praise is undoubtedly due to the stellar performance from Edward James Olmos as Jaime Escalante. He does a great job of embodying the character and making Escalante both loveable yet hard-nosed. He's quick witted and unorthodox yet always in control of the situation. Olmos is a lot of fun to watch in the role and is only rivaled in entertainment value by Lou Diamond Phillips as one of his students, Angel. At first, Angel seems like he'll be nothing but trouble but gets his stuff together and becomes the class clown of sorts.
The movie is based around the true story of how Escalante took charge of the math department at struggling Garfield High School and managed to get 18 of his students to pass the Advanced Placement calculus test in 1982. The Educational Testing Service found the scores suspect and asked 14 of the passing students to re-test. This is the main story arc here but it should come as no surprise how the movie unfolds. It is, after all, called Stand and Deliver.
The true story is a lot different than the movie, but of course that goes without saying. The film version is a solid entry into the inspirational underdog genre and is well worth checking out if you need a motivational boost in life.